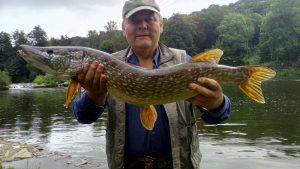 Štika byla ulovena 12.8.2016 měřila  89cm, tabulková váha 5.30kg, čas ve 20.00 hod., zdolávání cca30 min  způsob  lovu vláčení, nástraha střední twister, vlasec 0.16mm bez lanka. Úlovek to není trofejní, zajímavá je síla vlasce a to že zabrala při vylovování cca 25cm dlouhého okouna, jemuž při vylovení štiky koukal z štičí tlamy jen koneček ocasu. Tudíž celou dobu bylo 25cm vlasce v štičí tlamě.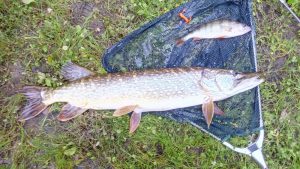 Ještě se chci zmínit o akci výboru MO, kdy jsem byl pozván a účastnil jsem se posezení a ocenění členů seniorů za dlouholeté členství v naší MO. Bylo to moc pěkné posezení a setkání s přáteli, s kterými mám za ty leta  mnoho krásných společných zážitků. Mám napříč republikou pár rybářských kamarádů,/od Frenštátu až po Žatecko/  a když jsem jim toto setkání popsal, tak mi zhruba odpověděli, že v jejich MO se členy takto nejednají,  i to, že jak jsem jim vylíčil, že na několika kilometrech toku řeky se zde dá ulovit mníkem počínaje, duhákem, parmou pokračujíc až k úlovkům sumce, mi sdělili ať si považujeme náš výbor, jak dobře to dělá. Člověk si to ani pořádně neuvědomí, až když to ocení členové jiných spolků, tak ho to trkne.
Tak výbore, v čele s předsedou Janem Bačinou, považuji si Vás, děkuji Vám a Petrův zdar.
Dlouholetý člen Žáček Bohumil.
Také nám můžete zaslat Vaše úlovky a rádi je zveřejníme..