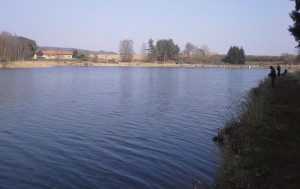 Dne 21.3. 2015 se několik našich závodníků zúčastnilo již třetího ročníku závodu Pohár Rachyně v přívlači,ve složení Pavel Horčička,Jiří Šimota,Jaroslav Urban a Jan Filko.
Předpověď počasí slibovala na den závodu nízké teploty a sněžení,ale závod je závod.Ale již při příjezdu na místo jsme zjistili jak se tzv.předvídači počasí spletli.Ráno bylo sice mrazivé,při chytání byl problém se zamrzajícími očky,ale jen co se slunce vyhouplo nad krajinu,bylo pěkně.
Ale zanechme řeči o počasí a věnujme se závodu.
Závod probíhal dvoukolově,po třech hodinách ráno a odpoledne.V každém kole byli dvě rotace o sedm míst.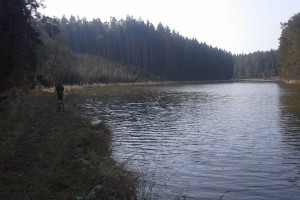 Revír byl skvěle zarybněn pstruhem duhovým.Taktéž se v revíru vyskytuje okoun říční,ale ten neměl vzhledem k roční době ten správný apetit.
Chytalo se na třpytky,nymfy,twistery atd. Kde duhák byl tak vzal téměř vše.Jenže ouha.Pstruzi byli soustředěni jen v jednom místě,takže kdo měl šťastnou ruku a vylosoval si místo právě tam,výborně si zachytal.Na ostatních místech byli ryby spíše náhodné.Ale to už tak u duháků bývá.Proto již výše zmíněné rotace,aby závodník nebyl znevýhodněn špatným losem.
Na druhém úseku,kde se vyskytuje okoun byla situace horší.Jak jsem již zmínil,okounům se vůbec nechtělo.Přesto se pár borcům podařilo nějaké nachytat.Většinou na mikrotwistery,marmišky….
Celkově to byl velice pěkný závod,ostatně jako v předchozích ročnících.Závod byl skvěle zorganizován.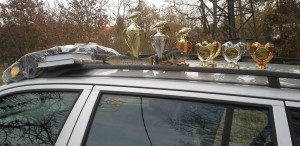 Z našich závodníků byl nejlepší Jirka Šimota který byl celkově šestý,pak Pavel Horčička jedenáctý,atd…
Závěrech bych chtěl poděkovat všem pořadatelům za zoganizování závodu a Středočeskému územnímu svazu za opravdu skvělé zarybnění.
Petrův zdar
Pavel Horčička