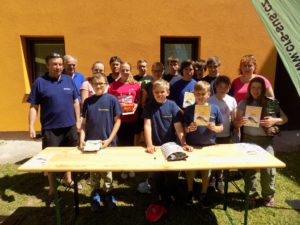 Ve dnech 26. až 28. května 2017 proběhlo v Mladé Boleslavi letošní středočeské územní kolo Zlaté udice a to tradičně pod záštitou Středočeského územní svazu. Příjezd účastníků byl již v páteční večer, po přivítání a nastínění celého víkendu závodníky již v pátek čekal test vědomostí.
Sobotní dopoledne patřilo závodu v plavané v úseku Jizery na Krásné louce, tento závod ovládli boleslavští žáci s tříhodinovými úlovky přes 6 kg, zejména Eda Suchý podal pěkný výkon. Po obědě následovala další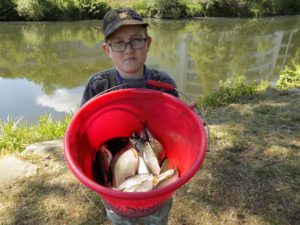 vědomostní část závodu a to v podobě poznávačky 20 druhů ryb, 15 druhů rostlin a 15 druhů živočichů. Jako obvykle největší pochvalu za celkové vědomosti zaslouží Honza Linhart ml., který soutěží prošel takřka bez ztráty kytičky. Vzhledem k ideálnímu počasí po večeři nepřišel odpočinek, ale začátek terčových soutěží v podobě disciplín skish zátěž a arembergu. Disciplíny rybolovné techniky je doména závodníků ze Sedlčan a světové výkony předváděl dorostenec Vojtěch Burda, který ve skish zátěž zvládl se všemi dvaceti zásahy do terče.
Nedělní dopoledne patřilo zbytku rybolovné techniky, kdy byla na řadě dálka s kapkou a muškou (hod do dálky) a skish muška. V neděli byla opět radost koukat na umění Vojtěcha Burdy, který přidal druhou stovku i na terčích mušky, ale i Martina Kulhavého z Hořovic, který dominoval v kategorii žáků.
Celkově si první místo v dorostencích velmi dobrým výkonem vybojoval Vojtěch Burda ze Sedlčan před Jiřím Červenkou z Mladé Boleslavi. V kategorii žákyň si celkové první místo vybojovala Tereza Tůmová ze Sedlčan, následovaná Zuzanou Caltovou a Nikolou Ulčovou. V žácích první tři místa patřila boleslavákům v pořadí Jan Linhart, Eduard Suchý a Vojtěch Šedivý. Na závěr závodu dohlížel i předseda místní organizace Jan Bačina, který připomněl, že letošní akce v Mladé Boleslavi probíhají ke 125 výročí založení místního rybářského spolku a 60 výročí od založení Českého rybářského svazu Mladá Boleslav.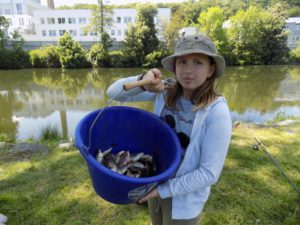 Akce se zúčastnil vcelku malý počet závodníků a tedy i malý počet družstev, ovšem všechno špatné je pro něco dobré a závod samotný mohl tedy probíhat i v režimu soustředění, kdy bylo možné s dětmi při závodě individuálně pracovat a ladit formu na kolo národní, které proběhne ve dnech 23. až 25. června. Pokud nedojde k nečekaným změnám, tak náš územní svaz bude na ,,národě" reprezentovat tým ve složení žákyně: Tereza Tůmová, žák: Jan Linhart, Eduard Suchý, Martin Kulhavý, Štěpán Vokáč, dorostenec: Vojtěch Burda.
Závěrem se sluší poděkovat za kvalitní přípravu závodníků, blahopřát ke sportovním výkonům a popřát hodně štěstí našemu týmu do kola národního. Poděkovat se sluší i celému týmu pořadatelů včetně Domu dětí a mládeže Mladá Boleslav, na odpovídající průběh dohlížejícímu panu Václavu Vančurovi a ještě jednou za podporu Středočeského územního svazu.
Oto Hlaváč