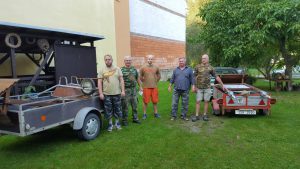 Dnes 13.9.2016 byla dokončena montáž  nových informačních cedulí na všechny naše revíry. Na základě usnesení Rady města Mladé Boleslavi bylo schváleno další umístění
informačních cedulí. Na dnešek byla  zorganizována  brigáda a provedeno umístění na revír řeky Jizery-  Podlázky, na revír Klenice- Štěpánka a na základě jednání s OÚ Krnsko na Skalský potok. Již při umísťování byl velký zájem seniorů a i procházejících školáků i učitelek, s  velmi kladným hodnocením a názorem, že je to přínos a skvělá informace pro občany nejen města Mladé Boleslavi.
Poděkování patří všem, kteří se na umístění podíleli a jsme rádi, že  to bude přínosem pro naší mládež.
Jan Bačina  a Radek Zahrádka