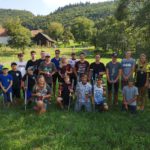 O velkém úspěchu našeho závodníka jste se mohli již dočíst na stránkách SÚS (https://www.crs-sus.cz/junior-vojta-sedivy-mezinarodnim-mistrem-cr-v-privlaci/), proto jsme Vojtu požádali, aby nám k vlastní závod přiblížil sám:
Od pátku 30.8. do neděle 1.9. 2019 se v Teplicích nad Bečvou konalo Me Mi ČR juniorů v lovu ryb přívlačí.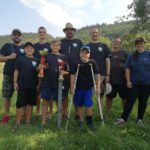 Jeli jsme autem společně s Rakovnickými závodníky Alešem Vorlem a Samem Bílým. Byli jsme ubytováni v hotelu Cementář. Po ubytování jsme si šli prohlédnout závodní tratě a zatrénovat si. Řeka Bečva byla plná tloušťů všech velikostí,ostroretek a všimli jsme si i několika pěkných parem. Na tréninku jsem si vyzkoušel pár svých oblíbených nástrah a tušil jsem, že závod bude převážně o tlouštích, protože ostroretky byly k nástrahám netečné. Po tréninku jsme se přemístili na slavnostní zahájení se všemi závodníky, kde bylo poté i losování. V prvním kole jsem nachytal 47 ryb o délce zhruba 5000 mm s tímto výsledkem jsem byl druhý v sektoru. V druhém kole 45 ryb které měřily asi 3500 mm a to mi stačilo na první místo v sektoru. Po prvním dni chytání jsem měl v Českém mistrovstí součet umístění 2 a v mezinárodním součet 3. V druhém dni jsem byl více nervózní protože jsem věděl že mohu pomýšlet i na celkové vítězství. V nedělním prvním kole jsem se zaměřil na chytání větších tloušťů s woblerem. Při tomto chytání bylo zapotřebí přesných hodů jinak tloušti neměli žádný zájem. V tomto kole jsem chytil 10 ryb se součtem asi 1200 mm. Ve čtvrtém a posledním mém kole jsem chytil 6 menších tloušťů v součtu zhruba 700 mm a to mi nakonec stačilo na první místo v sektoru. Potom už jsem jen čekal jak zachytá jeden Slovenský závodník, který by musel vyhrát obě dvě jeho kola. To se mu nakonec nepovedlo a já jsem se mohl radovat z prvního místa v obou mistrovství.
Chytání na Bečvě jsem si velice užil.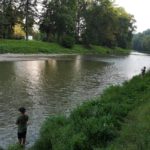 Za sebe si myslím, že díky dobré organizaci závodu všechno proběhlo hladce a v přátelském fair play duchu. Tímto bych chtěl poděkovat Aleši Truhlářovi a všem lidem, kteří mu pomáhali, za skvěle připravené závody. A hlavně bych chtěl poděkovat svému taťkovi za všechnu pomoc, podporu a rady při závodě a i celému týmu ze Středočeského kraje.
Oto Hlaváč